CarolinasDentist is a dental practice group dedicated to providing the best dental care in North Carolina. The organization, which is a subsidiary of Lightwave Dental, presently has eleven convenient sites around the state, ranging from central North Carolina to the coast, and employs over 40 dental professionals. CarolinasDentist delivers a high standard of care through a positive approach, convenient scheduling and financial options. The practice group provides a comprehensive range of treatments to patients of all ages while using cutting-edge technology and offering top-notch care.
Background
CarolinasDentist's marketing responsibility is managed by Lightwave's Director of Marketing, who is responsible for developing and carrying out the strategy for all locations. The Marketing Director's mandate at the time of contacting The Marketing Machine was to:
expand the company's market reach,
drive brand consistency across all locations and tactics, and
use digital advertising to raise customer awareness
With no internal marketing staff of their own, CarolinasDentist knew that they needed a full-service marketing agency to help establish and validate their strategy, design and develop their creative assets, and manage their marketing campaigns. The Marketing Director had previous experience with TMM and felt confident they would work well together.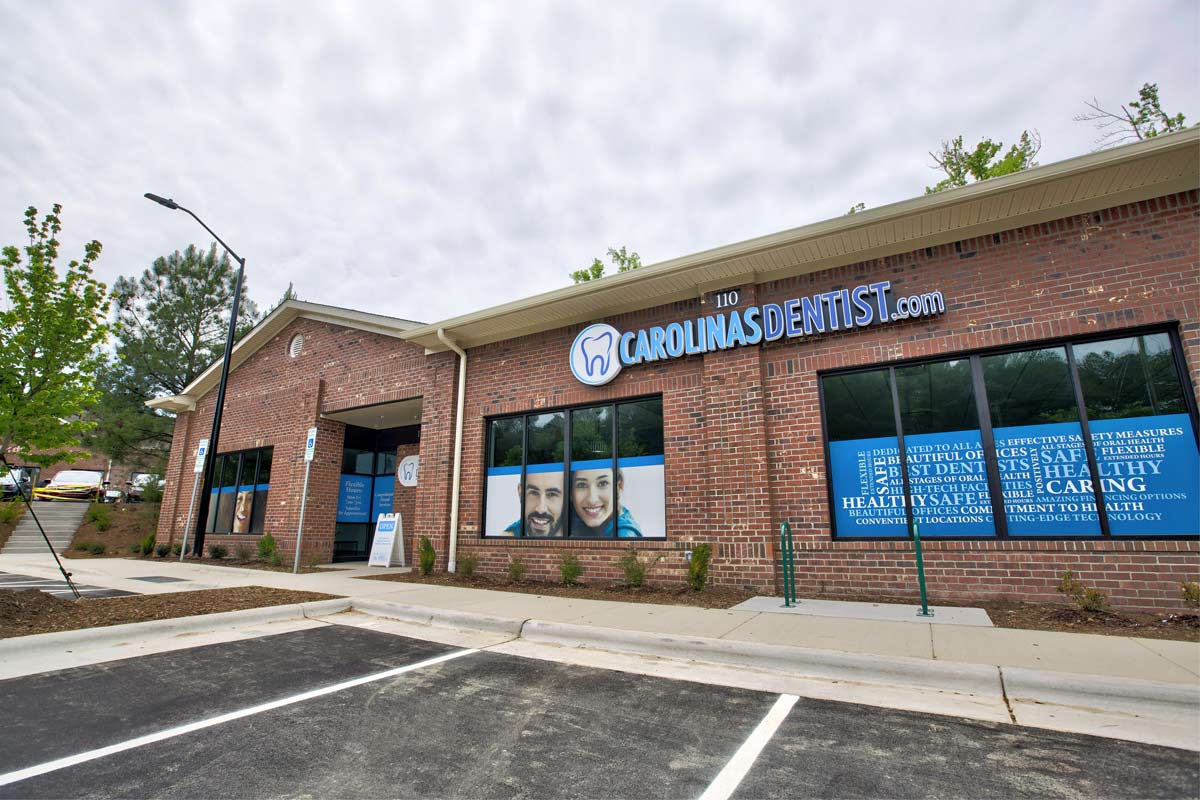 The project's goal was to develop a single, consistent marketing message and brand by employing diverse but deliberate tactics to reach a wide range of target audiences in a timely manner. The primary project goals were to:
Challenges
The initial challenge faced by CarolinasDentist was finding a marketing team that could augment and support the Director of Marketing's initiatives. The 2020 pandemic added additional challenges. A sense of urgency and concern existed as the focus turned towards strategically planning their reopenings. Once the pandemic began to subside, it was all systems go on the marketing of the multi-location and multi-geographic organization.
As the agency of record, TMM was tasked with helping to develop the marketing strategy, including planning and financials. Due to the dynamics of COVID-19, the budget was constantly in flux as the recovery progressed.
Collaborating with the client's Director of Marketing was a primary component of the project.
Other challenges included validating existing marketing vendors, identifying, and choosing new vendors and tools to support future marketing activities.
In addition to our global umbrella location strategy, we also needed to develop and implement new location launch campaigns.
Opportunities
The marketing opportunities we identified through collaboration with the client included:
Solutions
TMM's collaborative, consultative approach enabled us to become the CarolinasDentist's go-to team. TMM began with an analysis of the current, template-based website to identify strengths and weaknesses. Recommendations included updating calls to action and adding information to fill gaps. This delivered an interim solution until the website could be redesigned completely at a future date.
When a client is on retainer with The Marketing Machine, we are often tasked to evaluate other vendors that are part of the marketing mix. In the case of CaronlinasDentist, TMM conducted various analyses of the client's marketing activities and vendors to determine whether the company was receiving value for money and to determine whether these were fulfilling the objectives. Thankfully, CarolinasDentist was in good hands.
Other actions that were completed/implemented as a result of our engagement include:
Programmatic Display Advertising
Social Media Content Creation
Facebook Digital Advertising
Retargeting Digital Advertising
A photoshoot for the dentists' headshots
Window signage for existing locations
Email Marketing to existing patients
Print Collateral Refresh:

Membership Flyer revamp
Overview Rack Card

Digital Billboard
Animated video development for social media and YouTube
Establishing Brand Guidelines
Execution
Delivering on the mandate required TMM to first work with the client to finalize a set of key performance indicators (KPIs) and the metrics by which the success of the campaigns would be monitored.
In order to drive the consistency of the brand, the team first had to help identify the various target audiences. Prior to our engagement, each location was doing independent marketing, and it was necessary to review the activities performed by various locations. TMM's role was to help identify the audience criteria and demographics and to understand how and why to target them correctly.
For the new location launch campaigns, it was necessary to use different marketing strategies from those employed by existing offices. Execution of this phase included:
The development and commissioning of window signage for the practice
A mobile billboard that traveled around the area
Social media advertising
A direct mail campaign
Location signage (flags, sidewalk signs, & sandwich boards)
A comprehensive geo-focused digital campaign, including:

Facebook
Retargeting
Programmatic display
Helping the client to organize a campaign of this scale from a budgetary standpoint was a significant component of this project. Other important tasks were establishing the KPIs, setting up tracking dashboards, and identifying the correct measurements to determine the success of each campaign. This enabled the client to provide the C-Suite with detailed reporting of the results and ROI.
Results
The Marketing Machine initially saw increased engagement during January and February 2020, which resulted from the social media advertising that took place before the two-month lockdown period due to the pandemic. The campaign was restarted in May and ramped up from there.
Previously, CarolinasDentist had launched a direct mail campaign that received 10,000 impressions and no true way to track consumer responses. After TMM revised the client's marketing program to deploy a digital campaign, a million impressions were generated for the same expenditure, which is a 100-fold increase in impressions, and we were able to track conversions and activity.
Since direct mail was the bulk of this client's previous marketing efforts, it was easy to persuade the client to leverage digital over direct mail.
Outcome
Although the current outcome of this project is still ongoing, The Marketing Machine continues to grow and nurture its partnership with CarolinasDentist by providing impressive creativity and driving powerful results. Over the course of the next six months, we will continue to not only deepen and widen CarolinasDentist's mix but also begin to add layers that are localized to each location.
Looking back, we accomplished our initial goals of creating a strong foundation, including: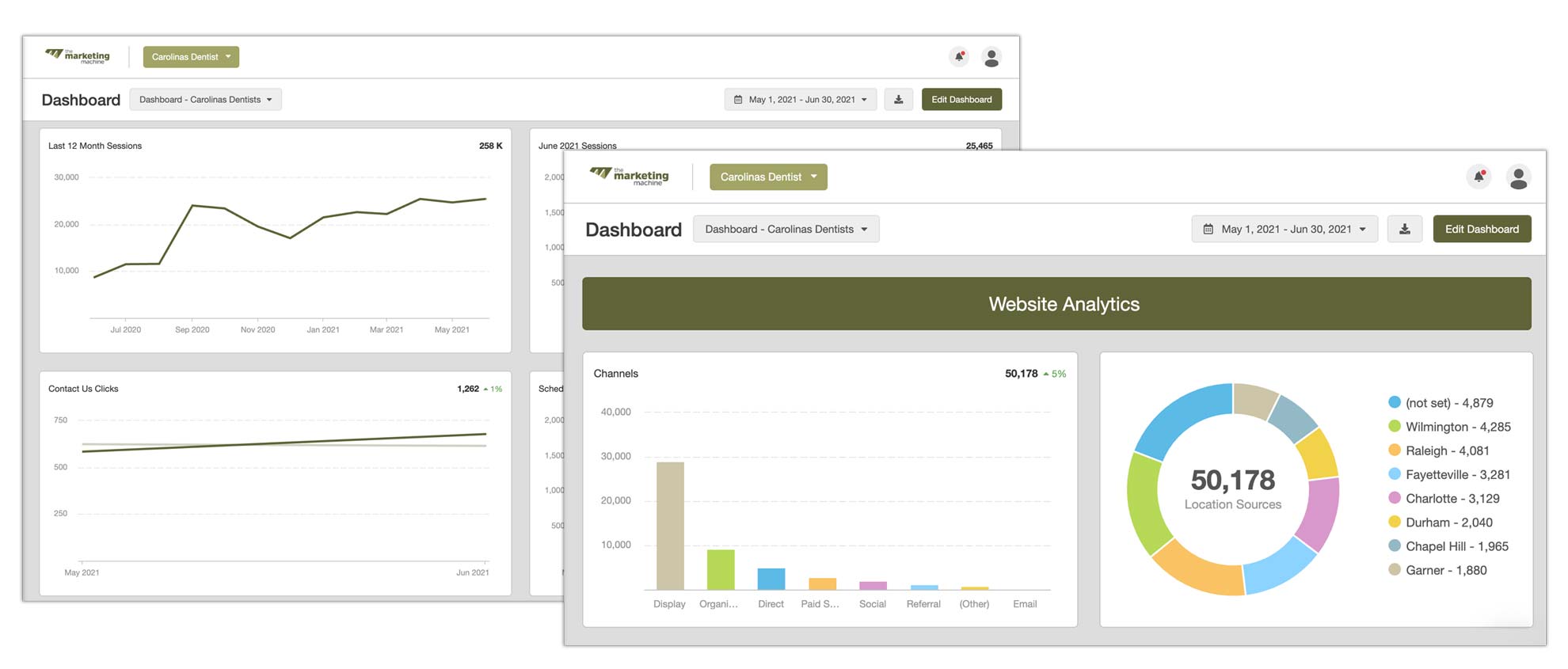 Future Initiatives
A number of future initiatives are under consideration, including email marketing aimed at educating new and existing patients.
One of these email initiatives would address ensuring the use of dental benefits by scheduling teeth cleanings before year-end when patients may lose their insurance coverage.
Other initiatives include:
Localized, practice-specific marketing to complement corporate efforts.
Building a "membership" plan campaign to push subscription-based dentistry.
Patient nurturing through marketing automation is another layer that could be added, perhaps as part of a campaign to promote the practice's annual dental plan in combination with safety messaging.
Conclusion
CarolinasDentist determined their best approach was to outsource their marketing efforts and partner with The Marketing Machine. This opportunity allowed for seamless implementation of a sound marketing strategy using minimal internal resources to improve efficiency without compromising effectiveness. The Marketing Machine applied its knowledge and creative approaches to achieve high levels of engagement that have resulted from the marketing practices implemented. TMM is proud to have assisted CarolinasDentist in navigating the COVID-19 impact on marketing by re-establishing ongoing marketing tactics to drive growth and providing a framework for launching new dental practice locations.
The Marketing Machine team looks forward to continuing our work with the Director of Marketing and CarolinasDentist to reach their marketing goals.