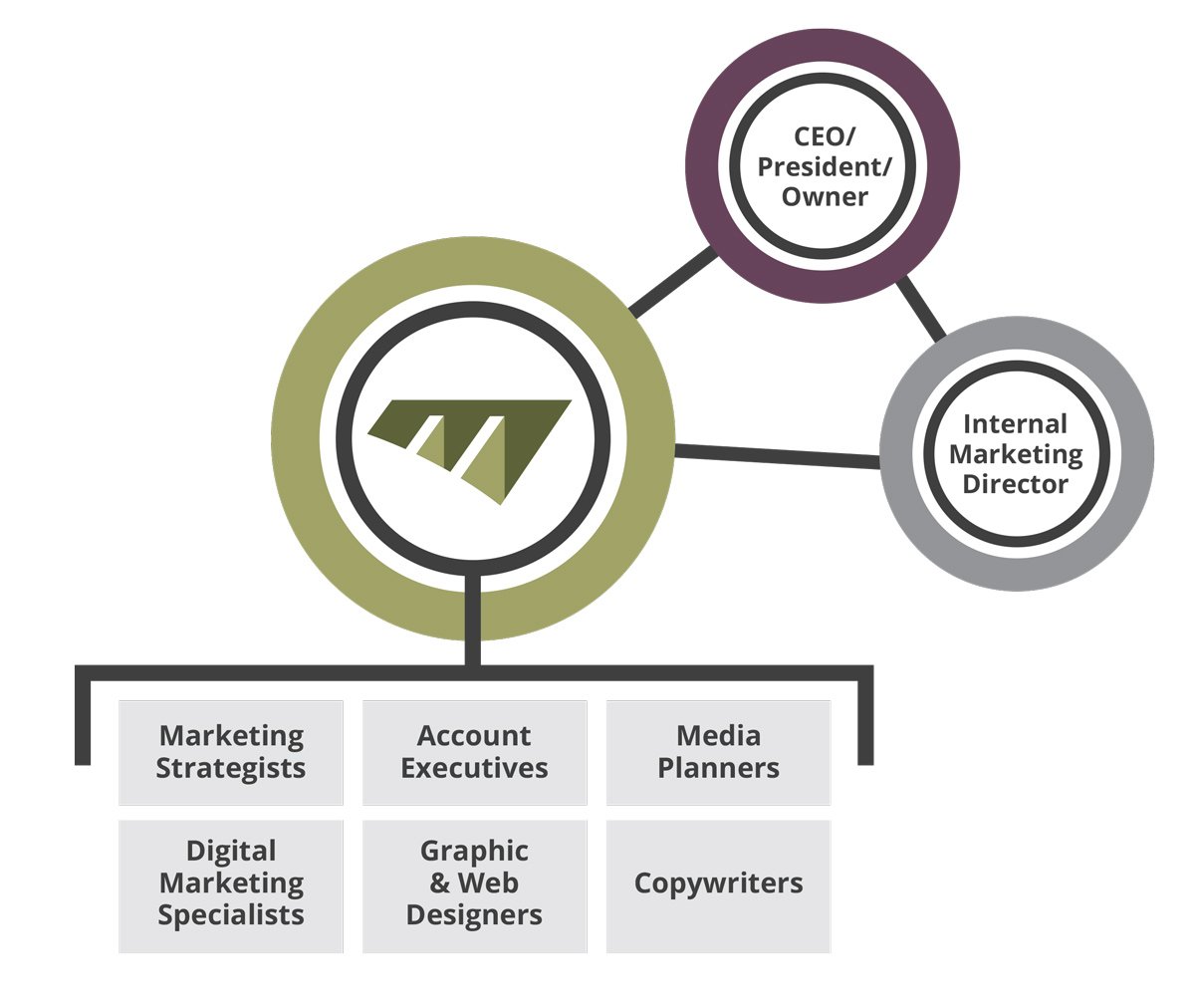 There are so many ways to engage with The Marketing Machine.
Plug us in, in the way that makes the most sense for your brand or business situation — whether it's one project or you need us to be your full-service marketing department. Clients leverage our industry knowledge, experience, approach and unique skill set, leaning on us to bring sophistication and polish to their marketing efforts, and raise their game. We work directly with C-level leadership within an organization, or oftentimes, we're brought in to support marketing directors who may be running a lean department and need conceptual, design and production resources on a periodic or ongoing basis. Let's just say we're flexible.
For less than half the cost of hiring a marketing professional, you get an entire team
of skilled craftspeople working for your brand, bringing unique talents and disciplines to the table.

Account Management
Your day-to-day business challenges are ours, too. A dynamic duo of a skilled account executive and account coordinator will give you their all, put sweat in the game and help you advance your goals.
Strategy/Planning
Don't improvise. Our brand experts will help you find new ways to stand out and stand apart. Nothing is gratuitous. Everything has a purpose.
Creative Direction
We go for smart over clever, for intent over coincidental. We swing for the fences every time. We bring true vision and real depth. Creative direction is where marketing, advertising and creative converge into strategic and visual purpose.
Graphic/Web Design
Our creative team breaks boundaries, forges new paths, takes inspiration and runs with it; above all, we find intelligent ways to bring your brand essence to life. We're the key makers, the artisans. It's some real Jedi shit.
Traffic Management
The TMMer in this department is the hub of every job, interfacing with teams and relying on advanced workflow management software to keep designers on track, ensure milestones are met and keep everything moving forward. The Marketing Machine DOES NOT miss deadlines. Ever.
Copywriting
Say it simpler. Say it smarter. Say it better. Let us be the voice of your brand. Good copy is honest, moving, seductive and it resonates with people. In fact, we're seducing you right now with this delicious wordsmithing.
Media Planning
Allocate your dollars across the right channels. Let's make marketing investments that generate real and measurable returns. No Ouija boards here.
Proofreading
We follow AP Style and thrive on achieving flawless execution on every piece that goes out our door. You'll simply freak at our level of detail.

GROWING YOUR BUSINESS —
IT ALL STARTS WITH A STRONG BRAND.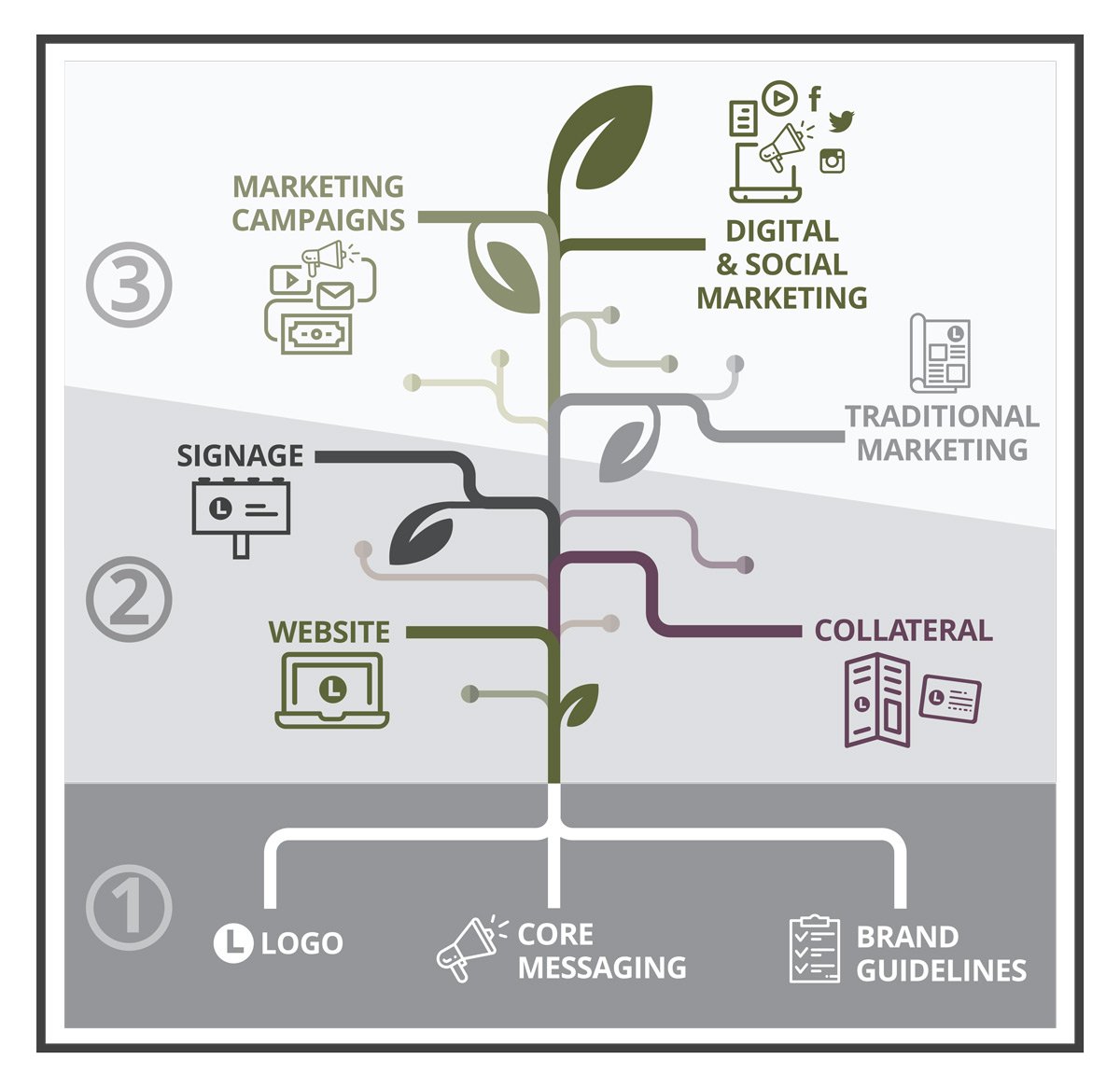 With a full range of skills and creative savvy behind you, we've got you covered.
Let's build and implement a well rounded, full spectrum marketing plan.
Step 1: Building a Strong Foundation for Your Brand
Logo
Core Messaging (Establishing your company's voice and messaging)
Brand Guidelines (Establishing rules for your company's look & feel)
Step 2: Expanding Branding into Marketing Materials
Signage (Storefront, Billboards, etc)
Collateral (Business Cards, Brochures, etc)
Website Design & Development
Step 3: Spreading the Word About Your Brand and Getting Customers in the Door
Marketing Campaigns (Multi-channel campaigns)
Traditional Marketing (TV, Radio, Direct Mail)
Digital & Social Marketing (Emails, Pay-per-click, Social Posts & Ads)
We are a vertically agnostic agency.
Drawing on more than 25 years of working across multiple industries, we have the clarity and insight to avoid well-worn paths and industry clichés, and bring something new to the table.
We can plug directly into your market or business situation. We on-board quickly and will channel our marketing expertise, guiding you toward memorable and consistent messaging, better creative and smarter media planning. All of which results in effective positioning, new leads and a wider customer base. We're well-versed in all aspects of traditional, digital and social marketing, so wherever your customers are we'll find them.
Click on the links below and dive deeper.