Do I need a mobile website?
The use of mobile devices to browse the Internet is growing exponentially, with predictions that by next year, more people will browse the Internet on their mobile devices than on their desktop computers! Not having a website that's optimized for mobile devices can really set you back; it's something that every business with an online presence needs to take seriously.
I'm sure you know how frustrating it can be to view a website meant for a computer monitor on your handheld device – not to mention all the outdated websites that appear just plain broken on mobile devices. For example, websites with Flash, complicated scripts, too much animation or incredibly high file sizes often won't work at all, or are super slow to load. These types of issues lead to a higher bounce rate (who wants to zoom and search and try to navigate through such mobile-unfriendly websites?) and often leave your target audience searching elsewhere for the business you just lost. Having a separate mobile website solves all of these problems without having to reinvent the wheel or start from scratch.
The ideal is to have a website that's built using responsive design (a method of designing and coding a website so that it adjusts to fit any device) – but not everyone can afford the time and money to start from scratch if they already have an existing website. The next-best solution is to create a mobile-friendly, condensed version of your desktop website that highlights what you want the user to be able to access while on the go.
With careful planning and studying Google Analytics, we determine what will work best for each client and how their mobile website will perform best for them. Here are three case studies: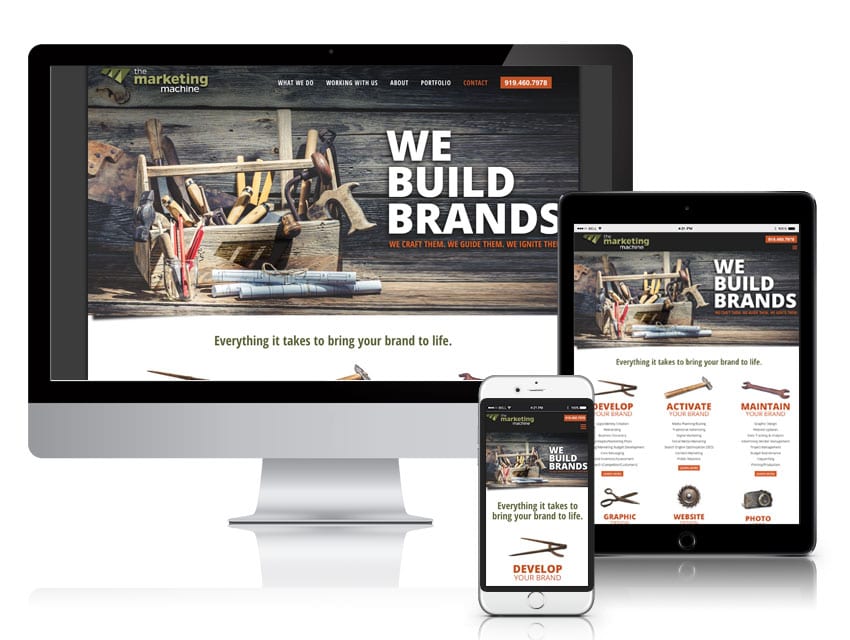 First, we'll start with our mobile website. We determined that there are three things that we really want to get across to potential clients.
1) We want them to contact us so that we can generate leads from our mobile website.
2) We want them to be able to quickly and easily review our portfolio to see that we're good at what we do.
3) We want to make them aware of all the services we offer so they know we can help them in more ways than they may have thought.
Secondary elements, but elements that are still very important to have on the mobile site, are a push-to-dial phone number and address that links to the user's map app.
You can see in this example, as well as the ones to follow, that we keep the branding intact and the mobile site mirrors the look and feel of the desktop version of the website. There are companies out there offering template mobile-site solutions where they slap on your logo with a bunch of generic links. That does nothing for your brand recognition (branding is more than just a logo!), plus this one-size-fits-all mobile website doesn't optimize your content for your target audience and therefore doesn't maximize the desired results.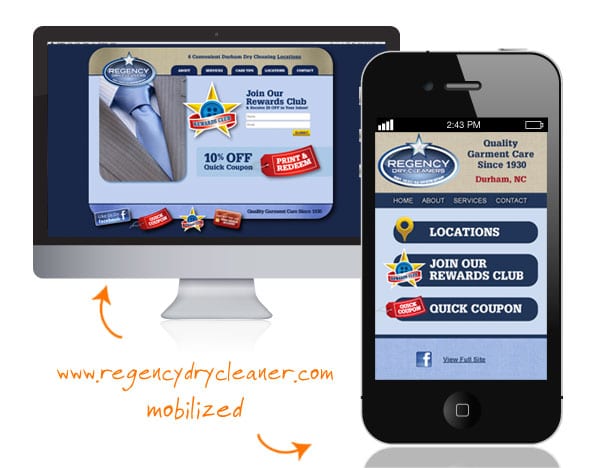 For Regency Cleaners, we decided that the three most important reasons someone would be searching for a dry cleaning company on their mobile device would be:
1) To find a location and get directions.
2) To join the Rewards Club (which generates a lead from the mobile site).
3) To find a "quick coupon" that will display on their mobile device so they can conveniently present to the cashier.
If someone is on-the-go and they find Regency's mobile site in search results, seeing a coupon they can use just by displaying it on their phone may be the difference that pushes them to choose Regency over the competition. And, of course, making all of their locations very easy to navigate helps drive business in.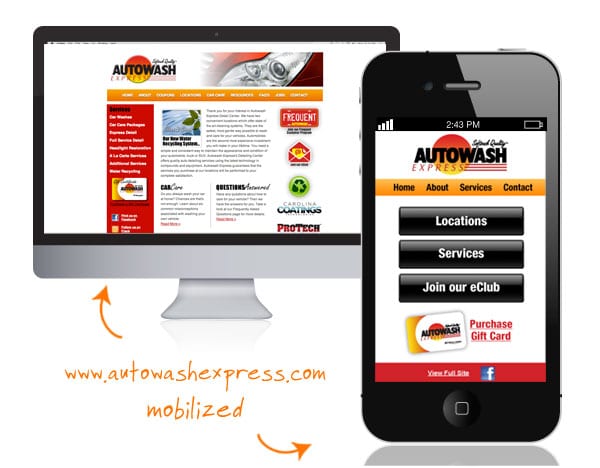 On the mobile website for Autowash Express, we determined that the most important call-to-action items were:
1) Locations and the ability to get directions to the locations.
2) Services and prices.
3) eClub membership (which generates a lead from the mobile site).
4) Gift certificates – so that people can quickly and easily have access to purchase them.
Same principal here as with Regency: If someone is on the go and they can easily find Autowash's locations and their car wash packages and prices, they can make a quick decision to take their car there instead of to the competition.
Along with the advent of mobile devices and mobile browsing have come impatient users, and if they can't find what they want quickly and easily on their preferred device, your business will miss out. Don't make that mistake!