What is print production?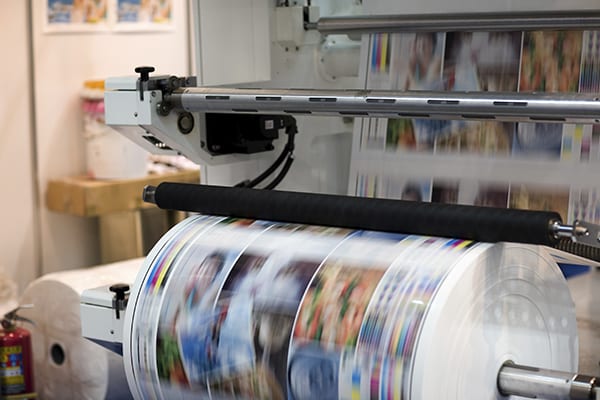 At The Marketing Machine, we build brands, creating designs that are, in one way or another, produced in some tangible way. Some of those designs eventually appear on your TV, your website, or Internet. But much of what we design ends up in print form, a process that requires the technical expertise of a print production manager, combined with the imagination of our design and account management teams.
There are many factors involved in deciding how best to execute a print project, and we would like to share some of that knowledge with you via several print-related blogs. First, we would like to describe the overall process of how we get a project from the screen to your hands. We do way more than simply order your printing…we manage the process from start to finish. That's the value you get from having us handle your printing.
1) Creative brainstorming – This is when the TMM team meets to discuss your project…its purpose, its audience, its function. We get the down-low on what it is (business cards? letterhead suite? pocket folder? brochure? newsletter? etc.) and then we discuss everything from how it will be used, color palette (full color, PMS, or perhaps a combination of both), size, materials, special features (foil, embossing, diecuts, special coatings), and of course, your budget.
2) Quoting – The production manager takes the proposed creative "picture" and creates a set of specs, which are then sent to a series of qualified printers (vetted by us) for competitive quotes. When we receive those quotes, we use our years of experience to determine which printer we feel will be best suited for your project, which is based on both their understanding of the project and their level of service. We'll then send you a competitive quote.
3) Ordering – Once your project has been fully realized in design and approved by you, we prepare the print files and PO and forward to the chosen printer/vendor.
4) Proof – The printer will provide a print proof, which we review to ensure that what the printer is seeing and producing on their side is an accurate representation of the files we sent them. This is our opportunity to point out anything odd that we don't want to see in the finished product. (If there are content changes at this point, additional charges may apply.)
5) Press check – For sensitive projects, we request a press check, which is an opportunity to spot color concerns, banding issues (on heavy solid color or graphics with gradients), registration issues, trapping, and all manner of other technical printing considerations.
6) Samples/delivery – We require our printers to deliver samples to us before you receive your project. This gives us a chance to spot any issues that may have occurred after the press check during production and finishing. On occasion, we will see something that requires a conversation and possible correction by the printer; however, more often than not, we file away our samples and deliver the balance on to you.
Next up…What are specs?