Everyone likes logos…they're graphic and interesting, and very, very personal. So why do we like them so much? And what does it take to make one great?
A great logo is simple, clean, memorable, distinctive and appealing to its target audience. A common mistake in amateur logo design is attempting to have a logo accomplish too much, graphically or verbally. When it comes to logo design (as in every aspect of design), less is more. In other words, once you've arrived at a logo that successfully communicates your brand personality and message, stop.
Consider the following brands: Nike, Apple, Audi, Mercedes, the Olympic Games and VW. (You're probably picturing their icons right now!) They don't need words because their icons are immediately recognizable. And then there are Google, Disney, Exxon, HBO, Ford, Intel and FedEx – all just as powerful without the need for icons.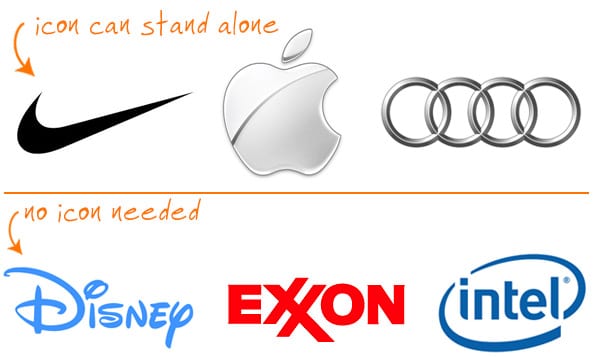 Logos don't always start out successfully. Some of these companies have evolved their branding over the years to stay current or to appeal to a changing audience. See examples of branding evolution here. For instance, Apple started with a cluttered mess of a logo, but over time they rebranded, eventually arriving at their current, incredibly recognizable and successful "apple".
Then there are the start-up companies that tend to rush the process and often settle for something mediocre (or worse)…maybe they had a tight budget and tried to design something themselves, or perhaps they didn't really take the time to think about their brand personality and target audience.
Or maybe they simply needed the right marketing partner to help guide them through the process.
We urge every business, whether you're considering a rebrand or need a spanking new logo, to consider your logo development as a critical investment in your future success. Your logo will set the tone for the entire branding campaign, as well as how your customers will perceive you. This is the time for some soul-searching…what's the company's personality? How does it stand apart in the market? An experienced marketing agency can assist you in answering these questions and help with extensive research on your company's target audience and competition.
Check back soon for "Logos Rock! – Part II" to see how The Marketing Machine can help with your logo development process.