So, where was I? Oh yes, logos and the incredibly important role they play in how the world sees the companies they represent.
The first step is asking for help. Thankfully The Marketing Machine is ready and able to help you launch your logo development project. Following is a brief description of the approach we take to helping you arrive at the logo that best portrays the essence of your brand.
1) Discovery – We'll ask you to fill out a questionnaire that's intended to reveal many of the fundamental characteristics of your company. After reviewing the completed questionnaire, we'll interview you about everything from your brand's personality to your market, competition, target audience and products/services.
2) Development & Strategy – From the information gleaned during the Discovery phase, we'll create a creative brief that we'll review with you before creative development begins. This step is essential in ensuring that we've plotted a clear, accurate path.
3) Creative Concepting & Logo Design – Using the creative brief as a map, our creative team begins researching, brainstorming and gathering inspiration that will ultimately lead them to a few worthy concepts that we feel represent your brand.
4) Finalizing Logo Design – We'll meet with you to unveil and explain the rationale for each concept. We expect you to take 2-3 days to consider the options, and once we have your feedback, we'll incorporate any tweaks and send back for your approval.
5) Once we've arrived at an approved logo, you'll receive a logo CD as well as access to your logo files via our website library.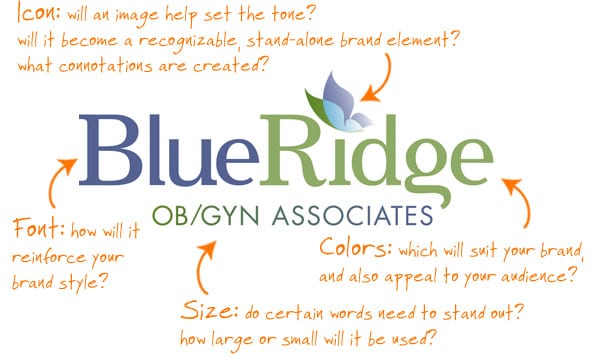 Ultimately, our strategy for creating successful logos is tried and true, so if you find yourself in need of a new or fresh logo, just remember the first step…
Once you have a logo, you'll probably need to decide what to do with it. Have no fear…we're here to assist in establishing an overall look-and-feel for any identity & marketing materials you may require. View our check list!