The Marketing Machine Wins Best Marketing Agency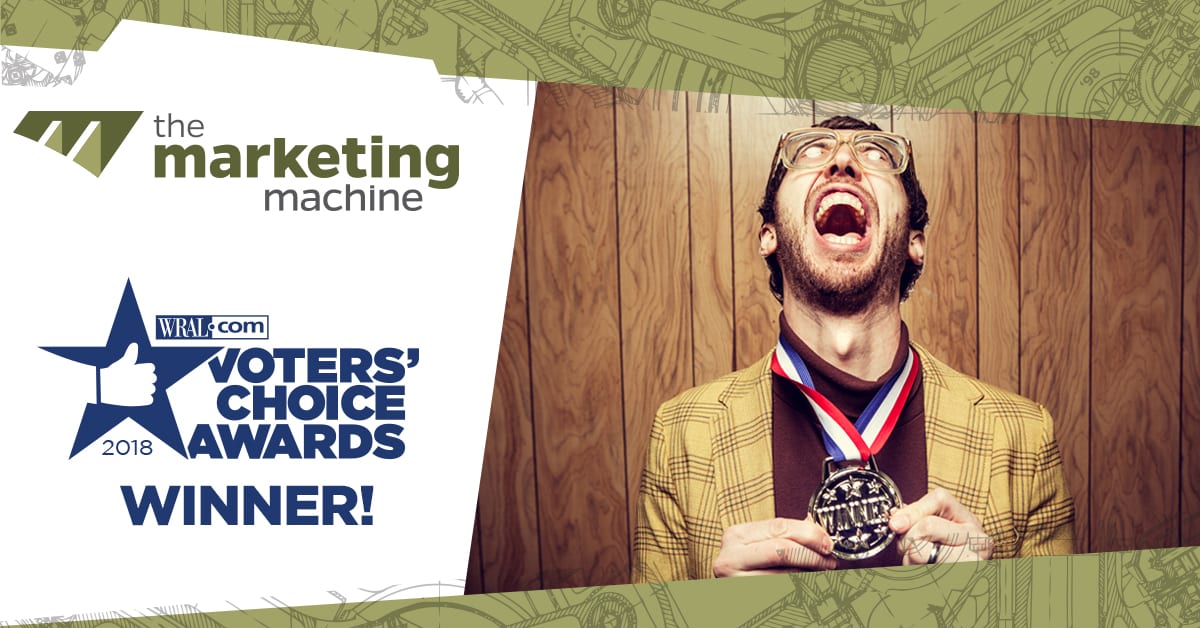 Raleigh, NC – January, 2019: The Marketing Machine has been selected as the winner of the WRAL 2018 Voters' Choice Award for Best Marketing Agency. Thousands of people voted in this year's contest and we're excited and thankful to have been selected by our friends, clients and partners.
The Marketing Machine has been in business for over 20 years and has established itself as a leader in the Triangle by helping our clients create unique brands which set them apart from their competition. We pride ourselves on our ability to understand our clients and their customers to craft a brand and marketing strategy that's right for their needs.
By combining design expertise, forward thinking and out-of-the box ideas we work diligently for our clients to ensure that their marketing needs are serviced by a group of professionals dedicated to increasing brand awareness and delivering results.
The Marketing Machine team thanks all who voted for us and we are honored to receive this award.
About the Marketing Machine: The Marketing Machine is your go-to partner for comprehensive branding, marketing expertise and strategy, campaign planning, project management, and graphic-design solutions. We are an innovative creative services agency specializing in helping our customers grow their businesses, whether it's a company getting serious about their marketing or a high-profile nonprofit or corporation whose marcos staff is wearing too many hats and needs a reliable partner.
The Marketing Machine boasts years of experience and expertise working with business owners, C-level executives and marketing directors as an outsourced member of their internal team, enabling TMM to address every project with open communication and a focus on professionalism. Our creativity-friendly business structure and location in the heart of the action in downtown Raleigh help create an environment of excitement and innovation in our team that is passed along to our clients in the work we do.
Learn more about how you can start building and maintaining a strong brand at theMmachine.com.