What is Customer Engagement and Why/How Do You Achieve It?
Cyberspace is crammed full of generic advice on how to "drive customer engagement," but what does it really mean and why does it matter to companies? The definition from HubSpot states: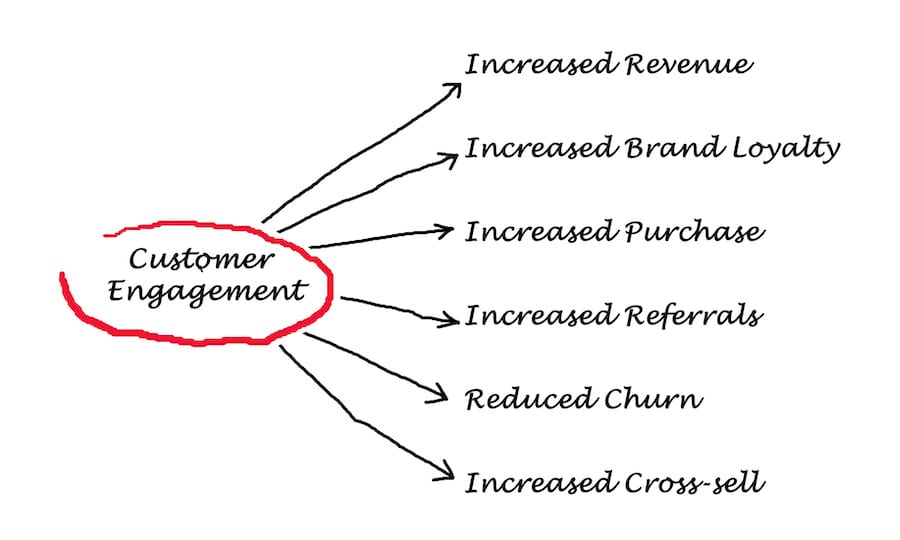 "Customer engagement is the ongoing interactions between company and customer, offered by the company, chosen by the customer." This highlights the fact that the customer chooses the brand, which indicates a degree of emotional investment.
But why is customer engagement important enough to warrant developing client engagement strategies, and how does this relate to the science of CRM and the up-and-coming field of customer experience?
Importance of Engaging Your Customers
It's a good five years since the 2014 Digital Tipping Point study by McKinsey & Company showed how C-suite executives considered customer engagement to be the top strategic issue facing businesses, but it's still entirely true. Other research shows up to two-thirds of a brand's profits could depend on how much their customers engage with their products, and statistics showed companies that were able to improve the amount of engagement achieved:
Better cross-selling, of up to 22%
Higher up-sell revenue of 51% (compared with 13%)
Larger order sizes, which rose from 5% to 85%.
When it comes to this issue, it's not enough to think about the financial value of your relationship with a particular customer and how to increase the amount they spend. To really succeed with customer engagement, companies need to build ongoing relationships that keep clients coming back, staying loyal, and acting as ambassadors for their brand.
Retention ROI vs. Acquisition ROI
We've all heard the saying that it costs five times more to attract a new client than to keep an old one, and although it's been proved it's not strictly true, there's no question that the less work you have to do for a sale, the higher its value. Customer engagement increases sales to existing clients in the following ways, which gives you retention ROI:
Stronger awareness of your solutions. Existing customers who are engaged with your products and services are more likely to make another purchase than those who interacted with you just one time. Whether you use help/support conversations, email or online chat options, you're making use of technology to build the relationship and keep the client involved with you.
Increased brand loyalty. When you engage with your customers, you make your brand visible to them time after time. They see your company name and logo each time they log in to your customer site or take part in a discussion. The more they know about you, the more likely they are to think of you when they need to solve another problem. That converts into sales when they renew contracts or buy more of your products or services.
Higher quantities of data gathered. When customers come to your events, visit your website or read your downloadable materials, they leave a record of their interests and challenges. You can use this information to find out their problems, buying choices and preferred products, all of which can help your sales team identify good selling opportunities and the most successful ways to draw in your prospects. Unengaged customers don't provide you with this level of activity data, so you have no idea whether you're making them the right offer at the right time.
Larger transactions. Research shows growth in revenue is connected to customer engagement. According to research by Pricewaterhouse Coopers (PWC), companies that use digital methods to reach out to customers projected higher revenue growth, and engaged customers spend 20-40% more than other customers.
Whether they're using social media, an online communications platform or email, the more engaged your customers are the more they'll buy from you, which increases the value of each customer.
The Science of Customer Experience
The most recent term being tossed around is "customer experience" or CX. While this applies to the emotional connection a customer has with a brand, customer engagement applies to all the touchpoints between the company and the customer. CX, however, is the use of technology to understand the customers' satisfaction level and adapt to ongoing challenges and behaviors. The benefits of doing so include:
better customer retention and satisfaction,
increased sales to existing customers,
larger financial transactions, and
more brand recognition.
Many companies are turning to customer engagement as the key to effective digital marketing. The internet is saturated with content and their inboxes are full, which makes good emails and account-based marketing essential to the Engagement Economy. Improved customer engagement is a real way to increase customer expectations, but it can be complicated to make it happen.
The Take-Away
Customer engagement is essential for companies who want to build loyal, longstanding client relationships, optimize the number of sales they make to existing customers and improve their reputation in their target market. Achieving it starts and ends with getting more involved with your customers and finding ways to attract their attention, even when they aren't actually buying from you. Good email communications, a quality website with powerful SEO, social media profiles, and the opportunity to interact more with you online all help to create opportunities for engagement.
For more information on how to build a customer engagement strategy that works with your target audience, please contact The Marketing Machine for a free consultation. We have been the leading Raleigh brand marketing agency for over 20 years and know how to get you in front of your customers.